Guide to Active Working
Humans are designed to move, yet we spend so much of our daily lives in static postures:
After eight or so hours of lying in bed we commute to work, either by car, bus or train, then sit at our desks for another eight hours, commute home where we sit on the sofa to watch our favourite box set. Not a lot of movement!
Are we Built to Sit? In a word, No! As soon as we move to sit down our bodies adopt unnatural postures. Muscles strrecth and load on the body increases. It is also reported that people who sit a lot have an increased risk of diabetes, heart disease and early death.
Are we Built to Stand? Yes, absolutely! We are built to stand and move! Our bodies are design to be in perfect balance when standing, with reduced stress throughout the intervertabral discs than in any other position. Studies have also shown that more calories are burnt, and blood sugar levels are lower when standing and muscle fatigue is reduced.
So why do we sell chairs (you might very well ask)? Well, whilst our bodies are designed for standing, that does not mean that we should stand all the time. As as most companies still work with standard height desking, there is still a huge demand for traditional height office furniture, and if we don't use the right type of office chair that promotes movement and variation in postures, our bodies will inevitably feel the strain. So we adopt a dual approach: 1) When standing to work is not an option, choose the very best ergonomic chair to support your postures and encourage movement. 2) When standing is an option, choose a combimation of sit-stand solutions to give you the best of both words.
Becoming More Active at Work:
One easy way you can increase your health and overall daily movement is to create a dynamic working environment. This can be done with the addition of a height adjustable desk (or platform) and a sit-stand stool that actively encourage and promotes movement. Users of sit-stand solutions have reported improvement in lower back pain, increased energy levels and concentration.
Just one of the many products Shape provide is the award winning BackApp Smart stool (Seen Below). This company have invested heavily in research to improve their products, and consequenly, our health at work:
In a major study conducted by Backapp, users were instructed in how to use the Backapp chair and the Backapp 360 balance board. They changed out their traditional office chair with the Backapp chair and Backapp 360 balance board and answered a questionnaire at the start of the field trial, and after 6 weeks. (Data collection, statistics and reporting were done by an independent third party – Force Technology AS). The results say it all....
146 participants had lower back pains
43 said they were healed!


241 office workers had pains in the neck and shoulder
106 said they were healed!


125 employees complained of headaches
57 said they were healed!


73 participants experienced pain in the arms and hands
34 said they were healed!


101 were tired at the end of a normal working day
40 said they were not tired anymore!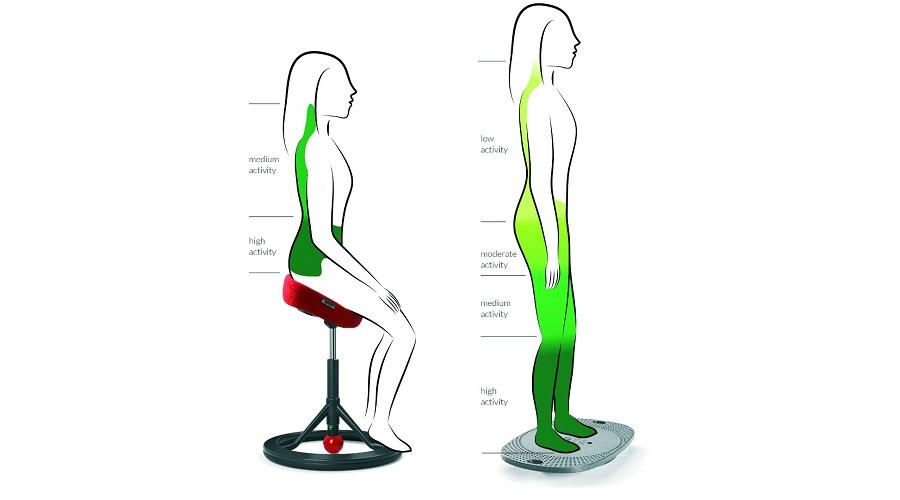 The Future of Office Work:
Where do we go from here? Being in the industry, it feels as if we are getting to a point where Active Working is becoming accepted and encouraged by a vast majority of organisations. As research progresses and better, more cost effective ergonomic solutions come to the market, the Active Working philosphy is becoming ingrained into health and safety culture. The advent of the mobile generation, with increased access to mobile apps and technology that enables you to work from anywhere at any time, has seen a rise in an absolute need for more active working solutions. The mobile generation cannot, and will not, be made to sit at a standard office desk all day. They want to be up and ready to make decisions on the move. And as technology changes, so do our options to work where we want, when we want, and how we want.
Choosing the right Active Working Products:
Shape have various options which will allow you to achieve Active Working, from height adjustable desks with Bluetooth connectivity, to sit-stand stools with 360 degree movement. Shape are always on hand to offer advice, so please do call if you have any questions.
*FREE DELIVERY on all orders over £200* | Call for Advice on
01629 814656
Contact us & we'll be in touch