Specialist mobility chairs for a wide variety of needs
Many illnesses, whether temporary or chronic, can cause disabilities that affect the individual's level of activity, making it difficult to continue with everyday activities at home and in the workplace.
This applies, for example, to people with arthritis, spinal diseases or multiple sclerosis, and can cause varying disabilities such as balance problems, reduced strength in the legs, arms or hands, reduced mobility of the joints or pain.
It is well known that you recover faster if you keep yourself going. The same applies to chronic disease, when you have to cope with various disabilities. Aids and changes in your environment can help you continue with daily activities and chores.
View the VELA Range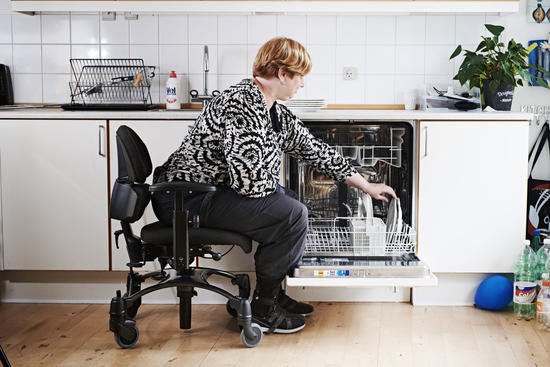 VELA TANGO - Secure & Stable Braking System
VELA Tango is a series of work chairs developed to enable the user to keep the usual level of activity and independence at home and at the work place – despite the user's disability.
A unique central brake ensures that the user has a stable work place, which means, that working in the kitchen with knives or boiling water is safe. Operated with an easy reach handle located on either the right or left side, the brake system is intuative and simple to operate. It is also possible to have and electrically operated brake system where manual operation is not possible.
Four large, smoothly running and direction-stable wheels make the chair easy to 'walk', with the large diameter wheels making light work of room thresholds.
View the VELA Range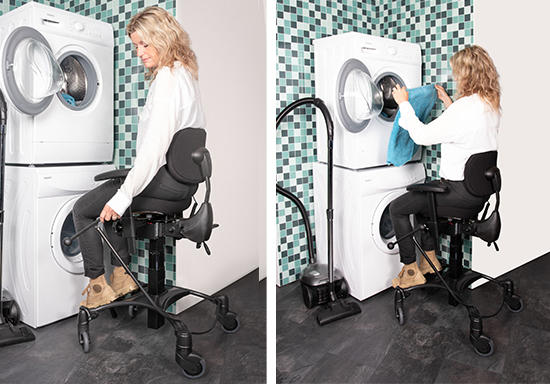 Electric Hi-Lo Lift
Easy electric adjustment of the seat height allows for high or low work positions, and is an option on all the VELA Tango and Salsa chairs. The controls can be accessed easily with standard placement undenearth the arm pad - or special placement should the user require.
The benefits for user in the home or office are significant, allowing for indepedence with tasks that may otherwise have been impractacal: Accessing high cupboards and filing, or kitchen appliances.
VELA has many years of experience of finding just the right chair to support and encourage activities and daily chores despite temporary or chronic illness. VELA has several models of customised chairs, sit-stand chairs and stools which are well suited to the home or the workplace.

See the Vela Tango in Action
Contact us & we'll be in touch