Advice for Home Working
Working from home can be challenging to say the least; distractions from other people, the kids, pets and with no supervision it can be difficult to keep productive and motivated.
To top it off, if you are uncomfortable whilst trying to work, sitting at your dining room table on a hard dining chair and looking down at your laptop, then you are likely to find plenty of excuses to get up and do anything else but work!
Creating an effective/safe office space when working from home is essential in helping to keep you focused and to reduce the risk of neck, back, leg pain, stresses on the spine, muscle fatigue and pain. At Shape we have selected a sample of products to help get you started in our 'Best Home Office Chairs and Desks' section: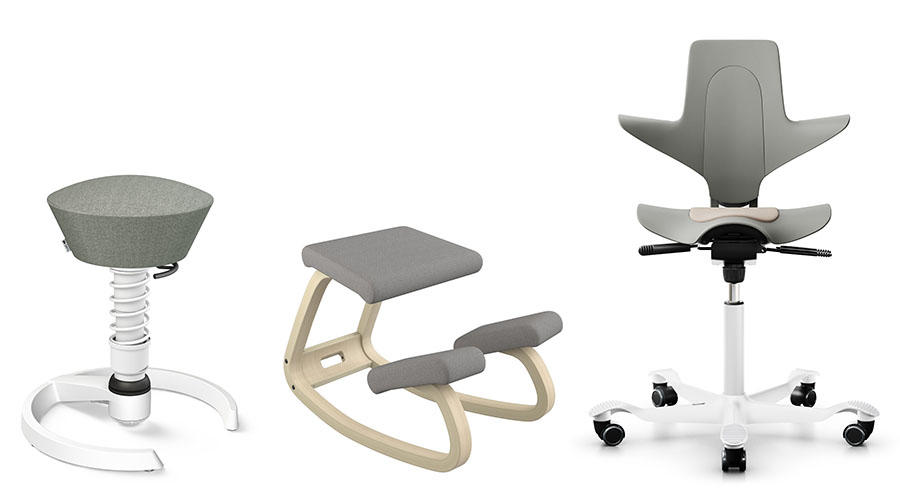 But how do you stay comfortable with chaos around you?
Ideally, if you can create a separate office space in an area which will give a clear distinction between work and home life, this can help you to be more focused when working and allow you to transition into home life much easier. However, with many of us not having a separate office or spare room which we can work in, we are having to make do with our dining table or kitchen worktop.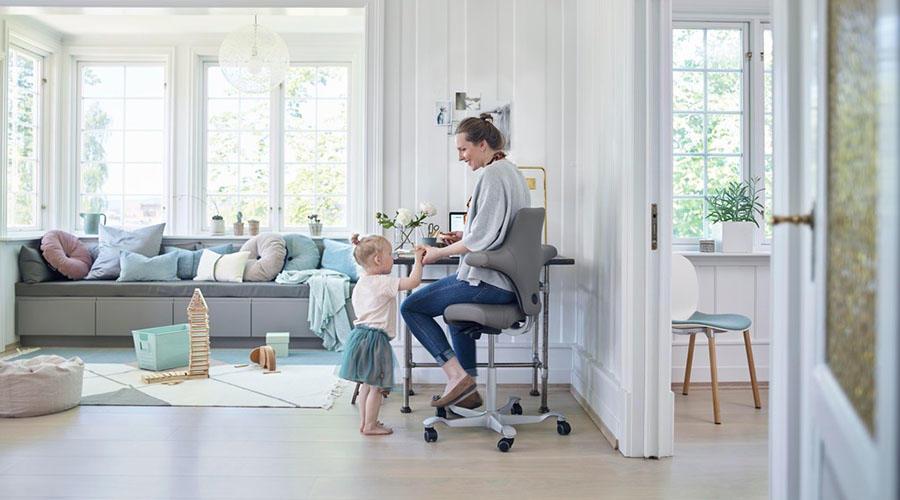 Whatever your situation, there are solutions which can help you optimise your space and encourage a safe and healthy posture.
Start by following a simple DSE (display screen equipment) checklist. Your employer may have one of these you can follow or you can find one on the HSE government website where you can download a free copy.


Make sure that you have a suitable supportive office chair. The best office chair for you is one that suits YOUR needs; gives you support where you need it and helps to provide you with a more comfortable sit. This will allow you to concentrate on your tasks, rather than on the pain/discomfort you may be experiencing. There is a plethora of options available to suit most budgets, which you can try before you buy to assess suitability.


A chair with a simple three lever mechanism such as the Summit Inflexion or a simple Mesh Back Orangebox Do task chair with easy to use levers can be just what is needed. However, if a more bespoke option is required then the Adapt range of chairs can offer you adaptability to accommodate most requirements.


If your working space is limited, then a more compact chair or stool may be the solution.


If you are using a laptop then invest in a stand, separate keyboard and mouse as this will reduce strain on the neck and hands and ultimately position the body in a more comfortable position.


Make sure that your equipment is appropriately placed to avoid over stretching and awkward postures. Read our advice on understanding your reach zones.


Break from sitting at your desk every hour for about five minutes. This can help reduce fatigue and refocus.


Avoid adopting awkward, static postures which will increase the risk of work-related upper limb disorders fatigue and pain.


Change your tasks regularly to help reduce overload and repetition.


Vary your viewing distance every twenty minutes for twenty seconds to help reduce eye fatigue.


If you enjoy the option of being able to vary your working postures between sitting and standing and maybe been used to this in your normal office, then a height adjustable platform such as the Fellowes Lotus LT sit stand platform is a great option of you have limited space. This will convert any surface into a sit stand desk. Alternatively, if you have the benefit of space which accommodate a desk, then Shape can provide height adjustable desks in various shapes and sizes.


Or, for when space is limited, and you just have no room for a desk permanantly sticking out from your wall, the new HomeFit compact desk (Below) is the answer! This folds out down into a small cabinte no bigger than a shoe cupboard, and comes in three basic colours to fit into almost every home decor: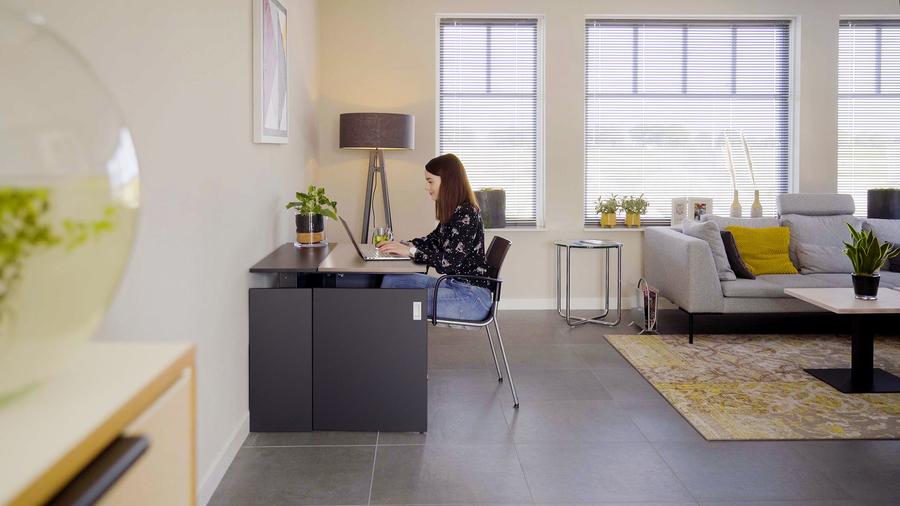 With unique mechanism promoting movement and posture variation, alongside stylish and modern design that has won this chair multiple design awards, the Trinetic task chair from BOSS Design is a perfect blend of design and ergonomics for the home office.
Shape have a number of solutions which can help you to achieve your desired working space. If you require any help or advice then please get in touch and we'd be happy to help.
*FREE DELIVERY on all orders over £200* | Call for Advice on
01629 814656
Contact us & we'll be in touch